Trump defends himself and said " I'm Very Stable Genius "
Washington: President Donald Trump tweeting about his mental stability in a series of tweets Saturday morning, according to President Trump he's a "very stable genius"
….Actually, throughout my life, my two greatest assets have been mental stability and being, like, really smart. Crooked Hillary Clinton also played these cards very hard and, as everyone knows, went down in flames. I went from VERY successful businessman, to top T.V. Star…..

— Donald J. Trump (@realDonaldTrump) January 6, 2018
….to President of the United States (on my first try). I think that would qualify as not smart, but genius….and a very stable genius at that!

— Donald J. Trump (@realDonaldTrump) January 6, 2018
US President Donald Trump has rejected questions raised over his mental health in a bombshell book, describing himself as a "very stable genius".
Michael Wolff's book Fire and Fury: Inside the Trump White House suggests even those close to Mr Trump have questioned his capability.
The US president has dismissed the book, calling Wolff a "loser".
Michael Wolff is a total loser who made up stories in order to sell this really boring and untruthful book. He used Sloppy Steve Bannon, who cried when he got fired and begged for his job. Now Sloppy Steve has been dumped like a dog by almost everyone. Too bad! https://t.co/mEeUhk5ZV9

— Donald J. Trump (@realDonaldTrump) January 6, 2018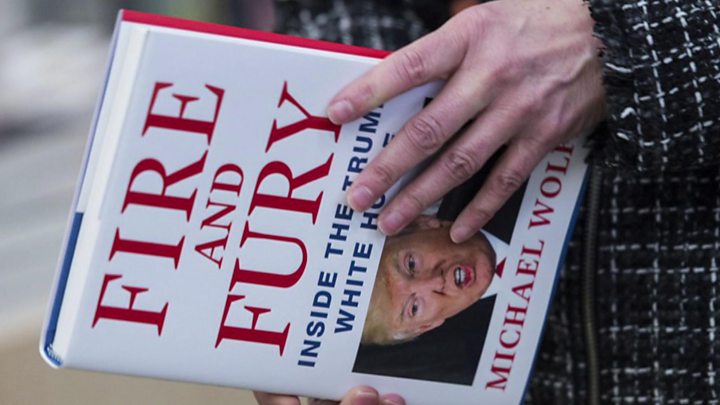 The remarkable spectacle of Trump defending his mental stability comes after the President and some of his top officials spent the last few days countering claims in author Michael Wolff's new book, "Fire and Fury," about Trump's mental fitness to serve as President. The book, which went on sale Friday, also paints the picture of a President who neither knows nor cares about policy and doesn't seem to perceive the vast responsibilities of his role.
May be you like this : Andy Murray pulls of Australia Open hip injury
Wolff reiterated his belief that it is becoming a widespread view that Trump is unfit for presidency, telling BBC Radio in an interview overnight that it's a "very clear emperor-has-no-clothes effect."
"The story that I have told seems to present this presidency in such a way that it says he can't do his job," Wolff said in the interview. "Suddenly everywhere people are going, 'Oh my God, it's true, he has no clothes.' That's the background to the perception and the understanding that will finally end … this presidency."